Uncategorized
Lunacy Launch
January 3, 2007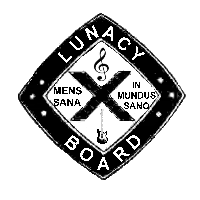 Happy New Year!
The Lunacy Board have now officially launched, with our first track "The Unofficial National Anthem" being available for download from our website at www.lunacyboard.com.
The song is an unusually upbeat number featuring a fairly standard rock base (drums, bass, guitars), layered vocals, a little theremin and a spot of organ. It is probably the most accessible music we've attempted so far, though there are enough weird things going on to appeal to more warped tastes (such as my own).
The new website will be our base of operations for the foreseeable future. As well as musical offerings, we'll be providing various other creative outpourings including poetry, prose and videos. As a small taster I've put on a test demo of a scene from our forthcoming drama "Stockholm" – watch out for more little nuggets in the future.
Wishing you all the best for 2007, with The Lunacy Board providing the soundtrack!