Tartan Heart (Belladrum) Festival
August 13, 2007
It has been a number of years since I last went to a music festival to experience the delights of multiple bands, dodgy catering and never-ending queues for toilets. My first such event was the Cropredy festival in 1987 which featured Jethro Tull, Fairport Convention and John Martyn amongst others, ran like clockwork and had record-breaking good weather – nothing I've been to since has measured up to that weekend, so how did Belladrum fare?
It has won awards for being the most family-friendly festival, amongst other things, and there were indeed stacks of activities for ankle-biters from puppet shows to storytelling and creative workshops. A very good selection of food stalls was on offer – from the traditional festival fare of burgers through to smoked salmon and stovies. The quality varied as much as the variety, as you'd expect, whilst the prices were uniformly high. Then there was the usual range of cash-in, boutique and generally peculiar shop stalls for those wishing to buy hats, wellies (essential), healing stones, etc. So far, so good, but most importantly… what of the music?
Friday
Nick Harper
We arrived slightly later than we had intended on the Friday, so by the time we had unloaded our gear into the tent (pre-pitched by Martin – what a star!), then found a copy of the 'Garden Times' (the mini-newspaper detailing running orders and events), we only managed to catch the end of Nick Harper's set. He played a monsterous version of his 'Love is Music' mutating epic, which grows more arms and legs and nods and winks every time I hear it played live. His singing was as strong as I've heard it, and guitar playing superb as ever – I just wished I could have heard more! The only downside was that the sound in the tent was pretty poor – almost as if the sound team underestimated the power that could come from one man with acoustic guitar – it seemed to be overdriving something in the system.
Peatbog Fairies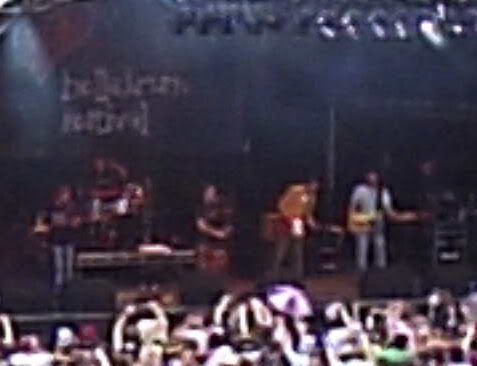 After a wander about we settled down to see the Peatbog Fairies over at the main stage – the only stage not covered due to the size of the arena. They have a mix of instruments from bagpipes and fiddle via horn section to standard rock guitar, bass and drums, and play a sort of high-octane ceilidh music intertwined with jazzy horn riffs and funky guitar solos – ideal for a festival audience in the Highlands, and it certainly got plenty of people up and jigging about. As a dance band they were great, but musically I found them fairly repetitive and lacking in dynamics, a fact which was not helped by a very poor mix which lost several instruments which were clearly supposed to be playing solos, and which had the bass so loud that we actually moved to the back of the arena because it was painful on the ears.
Alabama 3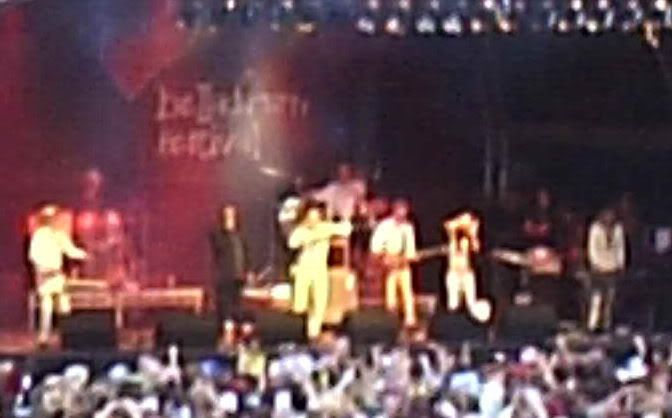 The bass was still a bit on the heavy side during the Alabama 3 (or A3 in the US) set, but the mix was generally a bit better. They play a brand of country music with a strong flavour of modern dance music – I'm not familiar with the correct label, as this is a type of music that generally I try to avoid, but I'd guess house or acid or something like that. It works quite well, with three vocalists singing and rapping against each other, electronic noodlings warbling in the background and a pretty tight set of country/gospel/blues songs to carry along. An interesting and entertaining act with mock evangelical zeal and some nice cynical references to world politics.
The Magic Numbers
Having been disappointed by the poor sound of all the artists so far, I was pleasantly surprised by The Magic Numbers, for whom the mix was just right, with a strong, crisp (but not overpowering) bass and clear vocals. I wasn't expecting great things, as none of their songs that I've heard before particularly appealed to me, but I really enjoyed their set which had a great variety of songs, with lots of dynamic range and fun little time signature changes backed by that clear and busy bass and smooth harmonically-interesting backing vocals. A very polished performance which shone with humour and a sense of fun.
Saturday
James
Headliners for the Saturday night were James – one of those bands which, from back in my student days when they were big news, I always considered to be over-rated. Not bad, I just couldn't see why so many people thought they were SO good. Nothing I heard at Belladrum changed my opinion. The sound wasn't great, the songs uninspiring, and the early 'last number' seemed like a push for a second encore. I don't know if they got it – I left after the first one – as did many others, but there was no change in lighting or on-stage clearing-up activity, so I think they were expecting it. In all I was surprised to see they had as big a fanbase present as they did, but they were the least interesting of all the acts I saw on Saturday. They pulled a bunch of people out of the audience for one song (which seemed to repeat the same riff endlessly) to dance on stage, but made no attempt to interact with them once they were up there. Perhaps I'm just spoiled by Zappa's approach to audience participation, but I thought it was a pretty empty gesture.
Kharma 45
Back at the start of the day, before the daily rag was available and we knew where to go and who to see, we stumbled upon an unadvertised band Kharma 45 – good lively rock band, with an energy I'd imagine in an early U2, and a bit of a hint of their progressive influences. A unexpectedly good start to a day of great music, despite the rainclouds starting to empty overhead.
The Dangleberries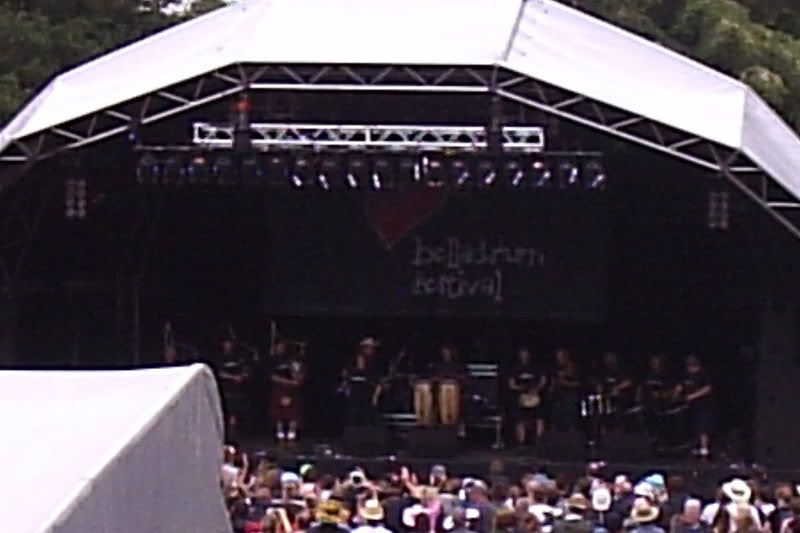 Next up for investigation, purely on the basis of their name, were The Dangleberries – another bagpipe-rock combo in a similar vein to the Peatbogs, but this time more of a pipe and drum band with a rock group tacked on. And with an altogether different remit. If Jack Black had lived in Scotland and learned the pipes, this is probably the sort of thing he'd come up with. Sabbath's "Paranoid" played on the bagpipes? "Roadhouse Blues" with a pipe and drum solo? Rock meets folk head-on and some sort of hybrid mutant music comes out. Not entirely successful all the time, but certainly a lot of fun. If you're going to do a cover version, then at least try and bring something new to the song – and the Danglers certainly do that!
Paul Steel
At this point we headed over to the 'Hothouse' tent to see String Driven Thing, but apparently the string driving the generator had snapped earlier in the day and the whole schedule for the tent was delayed. Another happy coincidence. Paul Steel was leading his band in his upbeat, quirky style, swirling his moptop around and jumping between keyboards and guitar with timing-perfect changes in style and tempo. Maybe I'm avoiding the radio too much, but I'm amazed that I hadn't come across them before – definitely one to watch.
Orkestra del Sol

Back to the other side of the festival arena to see Orkestre Del Sol – a wonderfully eccentric, but very well rehearsed brass ensemble playing great Eastern-European flavoured tunes with a great sense of humour and an engaging way of switching between band leaders. I could imagine this band doing great things with lots of Zappa's earlier instrumental music – great fun to watch and heart-warming, uplifting, crazy music.
Fake Bush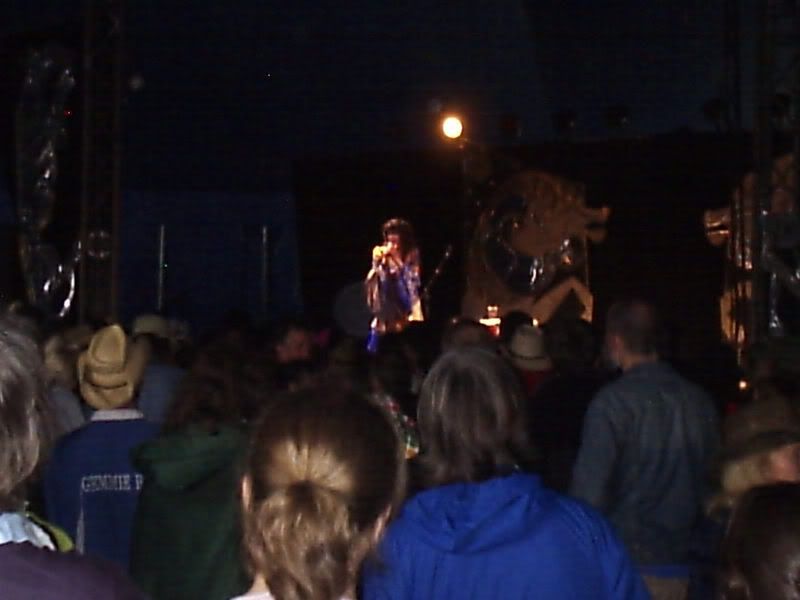 Slightly disappointing was the fact that Fake Bush was just one woman and a backing tape, rather than a full band, but she was very entertaining covering Bush songs from "Wuthering Heights" to "Breathing" (the latter done very well). A very visual act, half the enjoyment lies in seeing the moves and expressions familiar from KB videos and performances. She struggled with (or avoided) a few of the more awkward notes in the range, and some of the expressions were more like Fenella Fielding than Kate Bush, but this just added a bit of comedy to the mix which wasn't out of place. The only thing missing (minor, but an important part of the song) was the rifle sound in "Army Dreamers" which had been replaced in her backing track by a simple percussion sound – just not the same. Towards the end of the set there was a large influx of people into the tent to avoid the rain – I appreciate the need for shelter, but it was pretty damn rude to come in and talk all through the rest of the set – some of us did go to hear the music. FB carried on regardless of the pushing, shoving and noise and put on a great show. On leaving the tent it was apparent that the rain people had been trying so desperately to escape was no more than a standard Scottish shower – not some massive downpouring of biblical proportions. What a bunch of jessies.
String Driven Thing
Having only heard of String Driven Thing through their links to Van Der Graaf (Graham Smith played violin for both), I wasn't sure what to expect from them. What we got was a great old-school rock band with elements of folk and blues – no frills, no gimmicks, just good live music, played well. I hadn't really done much to find out more about them in the past, but certainly will now.
Misty In Roots
Perhaps the biggest surprise of the weekend for me was just how much I enjoyed Misty In Roots. Whilst I don't think I've heard a Bob Marley track that I didn't enjoy, reggae has really never done much for me and I've steered clear of it in the past. That's probably got more to do with the likes of UB40 and their ilk, but at Belladrum I finally got to hear a reggae band good enough for me to 'get it'. Sat down near the stage to get the full trouser-flapping effect of the bass (though still not as loud as the previous night's Peatbog mix), it was a pleasure to let the laid-back rhythm carry me along. But these guys can rock too – some of the guitar solos by Kaziwayi wouldn't have been out of place on a Pink Floyd album, the horn section added all the right touches and the vocal harmonies were stunning. The chatty rhythm of the lead vocal (Poko) seemed very spontaneous until the backing vocals came in exactly on cue to reinforce the rhythm and showed just how tight these guys are. A great performance.
So hats off to the organisers of the festival – it really was a cracker.
You May Also Like
August 25, 2013
October 19, 2006
October 10, 2015