Ivor Cutler – RIP
March 7, 2006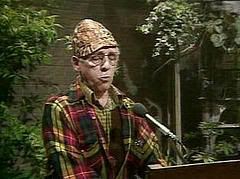 I've just learned that Ivor Cutler passed away last Friday. Quite disgusted that there was no mention of it on the news (even the local Scottish news) – unless I blinked and missed it. He was a true original, and has left behind a legacy of wonderful work. It is a great pity that he did not have a wider audience – the world could use more like him.
Although I had heard mention of him over the years, I had always put off investigating him as I'm not really a great lover of poetry in general, which is how he is usually remembered. I'm pleased to say that I finally rectified this a couple of years ago and discovered that he had so much more to offer. A fantastically drole sense of humour, a surreal and childlike appreciation of life and some of the funniest mournful songs I've heard. Things like "Where the river bends, the blind men fall in". All performed in a strong, but soft Scottish lilt accompanied by a wheezy harmonium.
A breath of fresh air in a crazy world. He will be missed.
You May Also Like
October 19, 2006
October 26, 2012
August 25, 2013